Kat Cruickshank
Bio
Kat Cruickshank was born in Pouce Coupé, British Columbia, raised in Calgary, and educated in Toronto at
the Ontario College of Art. She now lives in Port Alberni on Vancouver Island where, in addition to her artistic
activity, she worked for several years as a government observer on commercial fishing vessels. She is an ardent
angler and outdoorswoman.
Working in a variety of techniques including coloured pencil, watercolour, acrylic, digital media, and sculpture,
Kat has specialized in fish illustration since 1995. She is the illustrator of Fishing in Bermuda by Graham Faiella,
published in 2003 by Macmillan. For this book Kat produced thirty full-page species plates in watercolour, her
largest single body of work to date.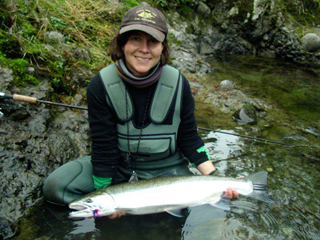 Artist's Statement
"I have been keenly interested in fish, and have been drawing and painting them, since childhood. The fascination
fish have for me, and my focus as a painter, is their almost infinite colour variations, even within a single species;
and also their unique relationship with light. They thus present limitless artistic and technical challenges for me.
Recently I have been exploring further beyond the classical "expository" watercolour illustrations that make up
the majority of my body of work, and experimenting with sculpture and electroluminescent pieces."